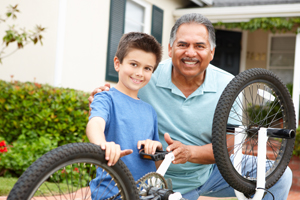 Ready to wind down your career and enter retirement? Prepare for this next journey with the confidence and assurance a roadmap for life's third chapter can provide. If you are already retired, and find it's not what you thought it would be, retirement coaching may be able to help you course correct toward a more positive outcome.
Retirement coaching is an essential investment in order to make a smooth transition from work-life to home-life. My programs are designed to prepare you to make a successful transition by focusing on the five key areas of retirement: mental, social, financial, spiritual, and physical.  My focus is the non-financial aspects of preparing for retirement.
The goal is to give you a safe place to ask the questions you aren't sure who to ask anyone else, to explore new possibilities and ideas, address fears and concerns, and move you toward your dreams and goals effectively.
Coaching is customized for each individual, couple or groups situation. Each session will be a little different, based on your needs at that time. Along the way, I will give assignments, suggest a course of action or ask you to come up with one. Throughout the process, I will encourage you to take some action steps and monitor your progress toward them. I offer the following services:
Individual Coaching: One-on-one coaching can be the most rewarding because it's all about you. Through regularly scheduled sessions, I work with you to not only clarify and then implement a strategy to overcome obstacles and achieve goals but also offer support and encouragement along the way. I can work with you on a single, specific issue or goal, or broader measures including your social network or spirituality.
Couples Coaching: In working with couples, I'll help you coordinate and discuss your thoughts, feelings, and expectations about retirement. The impact that retiring together or at separate times can have on you, and share strategies for growing closer and working together in retirement.
Group Coaching: An alternative to individual coaching is group coaching. It is perfect for organizations or associations who wish to offer non-financial retirement planning to their employees. Group coaching is much more interactive as each member defines, explores, and opens new thoughts and ideas about retirement. The length of each Group Coaching session is determined by the number of people in the group.
Assessments
DISC – In order to understand others, we must first understand ourselves. The DISC Assessment is an excellent way to discover how others want you to communicate most effectively with them. What works for you doesn't necessarily work for your manager or your co-worker. Once you learn the fundamentals of these four behavioral styles, you'll have the tools you need to improve both your career and personal relationships through improved communications.
Motivators – Explore how your driving values contribute to your effectiveness or ineffectiveness in the inside and outside of the workplace.
What is the cost of coaching?  The cost for coaching depends on the number of sessions and the type of session (executive, business, retirement: individual / couples / groups). Keep in mind an experienced coach like me will cost more than a beginner coach. Coaching is designed to your customized need.
Business Coaching
Are you ready to focus on improving your career options? Business coaching provides the time and space to consider options, clarify goals, dust off your resume and prepare for interviews. Our conversations may uncover skills and/or obstacles that seem to be holding you back. Next you'll work on how to close the gap(s). Results are possible provided you do the work.
A 3-month package will get you started on improving your career options — $1,800.
A 6-month package for the cost of 5 — $3,000
The 3-month package includes 3 one-hour coaching sessions (virtual via Zoom or phone) and email support between virtual coaching sessions.
Retirement Coaching
Are you considering retirement within the next year and you want to focus on the non-financial aspects of planning for your retirement?
A 3-month package will get you started toward developing your customized plan for a successful retirement — $1,575.
The 3-month package includes 3 one-hour coaching sessions (virtual via Zoom or phone) and email support between virtual coaching sessions.
My commitment to you, regardless of the type of coaching, is to provide a safe, reflective environment where together we will make the most of your time to achieve results.